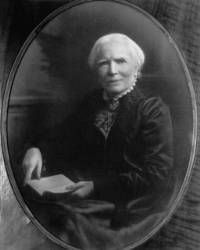 First Woman Doctor in the United States
Elizabeth Blackwell (1821–1910) was the first woman to receive a medical degree in the United States, and a social reformer in both the US and in England. She was also a pioneer in women's education, establishing the first medical school for women, which resulted in both greater acceptance of female physicians and stricter standards for medical schools as a whole. By the time of Blackwell's death in 1910, the number of female doctors in the United States had risen to over 7,000.
Childhood and Early Years
Elizabeth Blackwell was born near Bristol, England February 3, 1821, the third daughter among nine children of sugar refiner Samuel Blackwell and Hannah (Lane) Blackwell. Every member of the Blackwell family was involved in social reform movements. They believed in free and equal education for both sexes, which was radical thinking for that time period. Four maiden aunts also lived with the family during Elizabeth's childhood.
Samuel Blackwell exerted a strong influence over the religious and practical education of his children. He believed that each child should be given the opportunity for unlimited development of his or her talents and abilities. Elizabeth had not only a governess, but also private tutors to supplement her intellectual development.
In the 1830s, riots broke out in Bristol, and Samuel decided to move his family to America after a series of business losses. Elizabeth was eleven years old when the Blackwells sailed for New York in August 1832. Her father set up the Congress Sugar Refinery in New York City, where the family became deeply involved in the abolitionist movement, attending meetings and hiding an escaped slave in their home.
Elizabeth adopted their father's liberal views, attending antislavery fairs and abolitionist meetings throughout the mid to late 1830s. These activities made her yearn for more economic and intellectual independence. In 1836, the refinery burned to the ground and was rebuilt, but Samuel Blackwell ran into business problems a year later.
The Blackwells moved to Cincinnati, Ohio in 1838, partially because of Samuel's interest in cultivating sugar beets, an alternative to the slave-labor intensive sugar cane. However Samuel died unexpectedly on August 7, 1838, leaving his family with no income and a great deal of debt. To support the family, Elizabeth and two of her sisters opened a private school -
The Cincinnati English and French Academy for Young Ladies
- and charged for tuition, room and board.
Elizabeth became an active member of St. Paul's Episcopal Church. However, after William Henry Channing, a charismatic Unitarian minister, arrived in Cincinnati in 1839 she began attending the Unitarian Church. The conservative Cincinnati community disapproved, and the Academy lost many students and was forced to close in 1842. Elizabeth began teaching privately.
Channing renewed Elizabeth Blackwell's interests in education and reform. She worked at self-improvement by studying art, attending lectures, writing short stories, and attending religious services of all denominations. In the early 1840s, she began to express her thoughts about women's rights in her diaries and letters.
In 1844 Blackwell accepted a teaching job that paid $400 per year in Henderson, Kentucky, where she had her first real encounter with the realities of slavery. She returned to Cincinnati six months later, determined to find a better way to spend her life.
To Live an Independent Life
In 1845, at age 24, Blackwell visited a friend who was suffering from terminal (possibly uterine) cancer. The friend said that she would have been much more comfortable being treated by a female doctor; it was apparently this meeting which gave Blackwell the idea of pursuing a career in medicine. Also, part of Blackwell's decision to become a doctor was that she wanted to live an independent life.
Discreet inquiries to doctor friends concerning the possibility of acquiring a medical degree were met with incredulity or disgust, but she was not deterred. The following year, Blackwell was able to secure a post teaching in Asheville, North Carolina, where she studied medicine privately with Dr. John Dickson; the year after, she taught music in Charleston, South Carolina, while continuing her studies with Dickson's brother, Dr. Samuel Dickson.
By 1847, Blackwell was ready to begin applying to medical schools, knowing that no woman had ever been permitted to study medicine. She left Charleston for Philadelphia, where her friends were mostly Quaker liberals, abolitionists and other reformers. Her greatest wish was to be accepted into one of the Philadelphia medical schools. She also had some affairs with men, and feared that her romantic tendencies would lead her to marriage, but her determination to become a doctor soon became an obsession.
She was met with resistance everywhere. Most physicians recommended that she either go to Paris to study, or that she disguise herself as a man to study medicine. The main reasons offered for her rejection were that 1) she was a woman and therefore intellectually inferior, and 2) she might actually prove equal to the task, and that she could not expect them to "furnish [her] with a stick to break our heads with."
Medical Education
In 1847, out of desperation, she applied to any and all medical schools. Her application was rejected by nineteen schools. Finally, at tiny Geneva Medical College in upstate New York, the faculty left it up to the 150 male students to accept or reject Blackwell's application. The students thought it was a practical joke and voted to admit her.
Blackwell had an enormous impact on the class. Her presence turned a group of boisterous young men into well-behaved gentlemen. Whereas before, there was so much confusion and chaos in the lecture hall that the lecture itself was barely audible, with Blackwell's arrival, the male students sat quietly and listened attentively.
However, she experienced a lot of isolation as well. She was looked upon as an oddity by the townspeople of Geneva. They could not understand why she would put herself in that situation, when marriage and motherhood were much better goals for a woman. Most students, however, eventually became friendly, impressed by her ability and persistence.
In the summer between her two terms at Geneva, Blackwell returned to Philadelphia, stayed with Dr. Elder, and applied for medical positions in the area to gain clinical experience. The Guardians of the Poor, the city commission that ran Blockley Almshouse, granted her permission to work there. Blackwell slowly gained there, but some young physicians walked out and refused to assist her in diagnosing and treating her patients.
On January 23, 1849 Elizabeth Blackwell graduated first in her class, becoming the first woman to receive a medical degree in the United States. The local press reported her graduation favorably, and when the dean conferred her degree, he stood up and bowed to her. Reacting to the outrage of the medical profession, Geneva Medical College again closed its doors to women.
Blackwell traveled to Europe for additional training. Denied access to Parisian hospitals because of her gender, she enrolled instead at La Maternite, a highly regarded midwifery school. In the summer of 1849 she began her residency in midwifery and obstetrics - under the condition that she would be treated as a student midwife, not a physician.
On November 4, 1849, while treating an infant with an eye infection, she spurted some contaminated solution into her own eye by accident. She lost sight in her left eye and thus lost all hope of becoming a surgeon. After recovery, she enrolled at St. Bartholomew's Hospital in London in 1850. Paul Dubois, the foremost obstetrician in his day, voiced the opinion that she would make the best obstetrician in the United States, male or female.
Medical Career
In 1851, Blackwell returned to the United States to begin her career, but no one would hire her. In 1853, she purchased a house in a seedy area on the Lower East Side of New York City, and opened a
one-room dispensary - the New York Dispensary for Poor Women and Children. She had very few patients, but managed to get some media support from the
New York Tribune
. She also took in Marie Zakrzewska, a German woman pursuing a medical education.
From these humble beginnings, Dr. Blackwell, her sister
Dr. Emily Blackwell
and Dr. Marie Zakrzewska expanded Blackwell's original dispensary into the New York Infirmary for Indigent Women and Children in 1857. Women served on the board of trustees, on the executive committee and as attending physicians. They cared for pediatric, obstetric and gynecological patients.
Poor women came from all boroughs of New York City to this first medical facility in the United States staffed by female physicians, and the patient load doubled in the second year. The institution accepted both in and outpatients, and served as a nurses' training facility. Elizabeth Blackwell's interest in social causes also grew, especially the educational status of women.
When the Civil War broke out, the Blackwell sisters organized the Women's Central Association of Relief, and worked with
Dorothea Dix
to train nurses for service in the war. The sisters and
Mary Livermore
also played an important role in the development of the United States Sanitary Commission.
Dr. Blackwell always promoted the importance of good hygiene. During the Civil War years, she also published two important books on the issue of women in medicine, including
Medicine as a Profession For Women
in 1860 and
Address on the Medical Education of Women
in 1864.
By 1866, nearly 7,000 patients were being treated per year at the New York Infirmary. In 1868 Elizabeth Blackwell's dream of establishing a medical college for women adjacent to the Infirmary was finally realized, when she opened the Women's Medical College of the New York Infirmary. The second black woman to become a doctor,
Rebecca Cole
, graduated from the Women's Medical College.
During this time, Elizabeth Blackwell made several trips to England to raise funds, and to try to establish a parallel infirmary project and medical education for women there. In 1874 she established the London School of Medicine for Women with Sophia Jex-Blake, who had been a student at the New York Infirmary years earlier. As her health declined, Blackwell resigned this position in 1877, and officially retired from medicine.
Social Reform
In England Blackwell diversified her interests, and was active both in social reform and authorship. She co-founded the National Health Society in 1871. She perceived herself as a wealthy gentlewoman who had the leisure to dabble in reform and in intellectual activities – the income from her American investments supported her. She traveled across Europe many times during these years, in France, Wales, Switzerland and Italy.
Her greatest period of reform activity was after her retirement, from 1880-1895. Blackwell was interested in a great number of reform movements – mainly moral reform, sexual purity, hygiene and medical education, but also preventative medicine, sanitation, eugenics, family planning and women's rights. She even contributed heavily to the founding of two Utopian communities in the 1880s.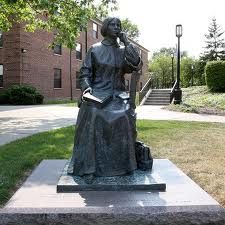 Image: Elizabeth Blackwell Monument
Geneva, New York
This bronze statue was erected on the campus of the Geneva Medical College (now the Hobart and William Smith Colleges) where Blackwell graduated in 1849, becoming the first female doctor in the United States.
Family and Friends
Blackwell was well connected, both in the United States and in England. She became very close friends with Florence Nightingale, and remained lifelong friends with English feminist and activist Barbara Bodichon, and met
Elizabeth Cady Stanton
in 1883. She was close with her family, and visited her brothers and sisters whenever she could during her travels.
Having decided not to marry, Dr. Blackwell adopted Kitty Barry, a seven-year-old Irish orphan in 1856. Diary entries at the time show that she adopted Barry half out of loneliness and a feeling of social obligation, and half out of a need for domestic help. Barry gradually became one of the family and lived with Blackwell until her death.
Later Years
Blackwell was still relatively active in her later years. In 1895, she published her autobiography,
Pioneer Work in Opening the Medical Profession to Women
. It was not very successful, selling fewer than 500 copies. Blackwell slowly relinquished her public reform presence, and spent more time traveling. She visited the United States in 1906 and took her first and last automobile ride. In 1907, Blackwell fell down a flight of stairs, and was left almost completely mentally and physically disabled.
Dr. Elizabeth Blackwell died May 31, 1910 after suffering a stroke at her home, Rock House, in Hastings, England at age 89.
SOURCES
Wikipedia: Elizabeth Blackwell
About.com: Elizabeth Blackwell
Women's History: Elizabeth Blackwell